Currently, there are hundreds and thousands of video games present in the market on different platforms for users to enjoy. Video games have not disappointed the consumers of the community at any stage of evolution. Instead, the industry kept on shining and flourishing with new trends and features included in games. But has this thought ever crossed your mind? How exactly does a video game come to its actual existence? What goes behind the making of a game? Well, in this article, we will focus on video game writing, a core element of games. We will also discuss a guide on how to become a video game writer.
What Is Video Game Writing?
Video game writing is the art of art and the process of creating a game even before it enters the designing or developmental phase. Back in the day, video games were not based on any storylines or plots, or twists. But with modern gaming trends and an increasing number of video game players, a lot of things changed, and among them, one was games having storylines. Not only did games have a proper theme to follow, but even the individual characters had their own backgrounds.
Do you remember games like Tekken, Resident Evil, Last Of Us, and many more games following a particular story? Well, this is what video game writing is all about. Creating an immersive, interesting, and engaging storyline that people will be curious to follow till the end of the game. Not only that, but game writing also includes focusing on the character descriptions, environmental description, structure of guidelines, instruction being delivered, and much more. It is safety say that game writing builds the foundation of game designing and development as it provides a rough idea for the following procedures.
Who Can Write Video Games?
Now come the most essential and frequently asked question, who writes a video game? Can a video game designer write a game? Can a video game developer write a game? Well, the answer to this question is that only skilled and expert video game writers have the expertise to write a detailed and interlinked video game. It is very much possible that a game designer or developer would have expertise in both writing and the second profession, but even in that case, they need to be skilled to do so.
What  Does A Video Game Writer Do?
Writing a game story or plot seems quite easy in the beginning. For most people, they assume that it is like writing an essay or just putting your imagination on a piece of paper. However, the reality is quite different from what it seems. For a video game to be properly functional and interesting, it is necessary for the game writer to come up with a story that grabs the attention of players, increases their curiosity, and amazes them with a twist and turns, all while taking care of the fact that it also matches the functionality and features of the video game.
To accomplish all of the goals mentioned above, a video game writer makes sure to develop a video game story with a properly written script that is easy to execute, detailed descriptions of characters and surrounding for animations and illustrations, tutorials that would guide players, and the description of instructions, gaming handles, feedback or reward.
It is pretty essential for video game writers to work in collaboration with the game programmer, game designer, and game developer in order to know the technicalities of the game development procedure,  game designing requirements, and a smooth working experience.
How To Become A Video Game Story Writer?
Coming to the main topic of the article. We will now review a detailed guide on how to become a video game writer. The steps required for the whole step are mentioned below.
Academic Background.
Playing Video Games.
Analyze Video Games.
Focus On Developing Writing Skills.
StartWith Writing Short Stories.
Build A Portfolio.
Dig Deep Into Game Development Process.
Get Hands-On Experience.
Increase Your Network.
Get A Job.
Be Passionate.
Stay Up To Date With Trends.
Do Not Hesitate To Ask For Help.
Academic Background
The first step for becoming a skilled video game writer is to have a strong academic background that will help you in building language and vocabulary skills. It is better for you to pursue a career in creative writing, English literature, or a related field. What adds up to having a strong background is to have related experience in game designing or development so that you can link the two professions.
You can always mix and match degrees and diplomas to have a strong informational background. Other helpful activities are book reading and watching good series, movies, or documentaries.
Playing Video Games
The fun part of becoming a video game writer is to play video games. How cool is that? However, it is pretty essential to play different types of video games not only to enjoy the game but to observe the storylines, graphics, and plots of video games.
Analyze Video Games
It is not necessary to always play games in order to understand them. You can understand the working and background of a game by just observing and analyzing the video game. This also helps in gaining valuable insights regarding people's opinions of who is playing.
Focus On Developing Writing Skills
The next step is to focus on developing creative writing skills.  Video game writing is not just about having fictional imaginations. You need to have the skills to put those imaginations on paper. Developing this skill requires practice and nothing else. You have to write, write and just write in order to improve this skill and get a good grip on it.
Start With Writing Short Stories
Ever heard of the phrase more is less? Well, the same goes for writing. Do not keep the goal of writing a big game story as your priority. Instead, focus on writing short stories at the beginner's level. You can even stick to writing character descriptions or environmental details at first.
Build A Portfolio
The next step is to keep building a portfolio. You need to have something to show to the audience or professionals when you would want to enter the professional field. Hence, it is necessary to focus on building a strong and attractive portfolio of your work.
Dig Deep Into The Game Development Process
Make sure to have a piece of basic information but a deep understanding of the game development process. As mentioned above, game writing is interlinked with the developmental process. You need to know what goes into making a game so that you can write while keeping the technicalities in mind.
Get Hands-On Experience
Never miss a chance to get hands-on experience. Look out for different practical courses, internships, or freelancing opportunities so that you can take baby steps and get practical knowledge regarding the field.
Increase Your Network
Always focus on socially interacting with professionals and skilled people. You need to increase your networking so that people will get to know you and have a sense of your passion.
Get A Job
Once you have increased your socials and gotten some sort of experience, start applying for jobs. Try to get a job to strengthen your skills in the beginning, as you would need to focus on that before making big moves. You can also work independently as a freelancer if that suits you, but you will still need some sort of experience.
Be Passionate
Always make sure to hold your passion close to you. This spirit of dedication and devotion will help you take big steps without getting scared or having any sort of hesitation.
Stay Up To Date With Trends
It is equally vital to stay updated with the latest gaming trends or writing trends in the market. This gives you the upper hand in staying connected with the industry and being open to new opportunities.
Do Not Hesitate To Ask For Help
Lastly, do not ever hesitate to ask for help if you want to grow as a game writer. It is essential for your progress to stay connected with other video game writers and learn from their experience or work under their guidance.
You May Also Read: What Are Live Ops And Why Are They Important?
Skills That You Require As A Video Game Writer
In this section of the article, we will discuss some important and necessary skills for a video game writer.
Creative Writing Skills.
Problem-Solving Skills.
Communication Skills.
Team Work Skills.
Basic Know-How Of Game Designing.
Knowledge About Game Development.
Technical Skills.
Creativity And Strong Imagination.
Creative Writing Skills
The first necessary skill is to have a command of creative writing skills. This will let you write innovative, interesting, and engaging games for players.
Problem-Solving Skills
Game writing is a complex procedure where shifts can be taken, and problems can occur. Therefore, you need to have problem-solving skills to tackle all the issues and hurdles.
Communication Skills
Since video game writers work in collaboration with game designers and developers, it is important for them to have communication skills along with writing skills. The reason for this is that it will be your idea that will be communicated to the masses. Therefore, you have to use simple and understandable language to communicate.
Team Work Skills
Working in a team is a must for video game writers. As a writer, you have to be present at all stages of game development and creation. Therefore, you must know how to tackle people and ensure a collaborative and peaceful working environment.
Basic Know-How Of Game Designing
For writing a graphic appealing and loaded game, it is necessary to have information regarding the game designing domain of game creation. This will give you the opportunity to build immersive gaming environments and unique characters.
Knowledge About Game Development
Just like game design, it is necessary to have a grip on game development knowledge. You should be well aware of the technicalities so that you can keep functions and features in mind while maintaining the flow of the storyline.
Creativity And Strong Imagination
Lastly, it is very important for video game writers to have a creative mindset and a strong sense of imagination. Your game should attract the masses and should be different from other games in the market. For this reason, make sure to utilize your creative flow at its best.
What Are The Benefits For Video Game Writers?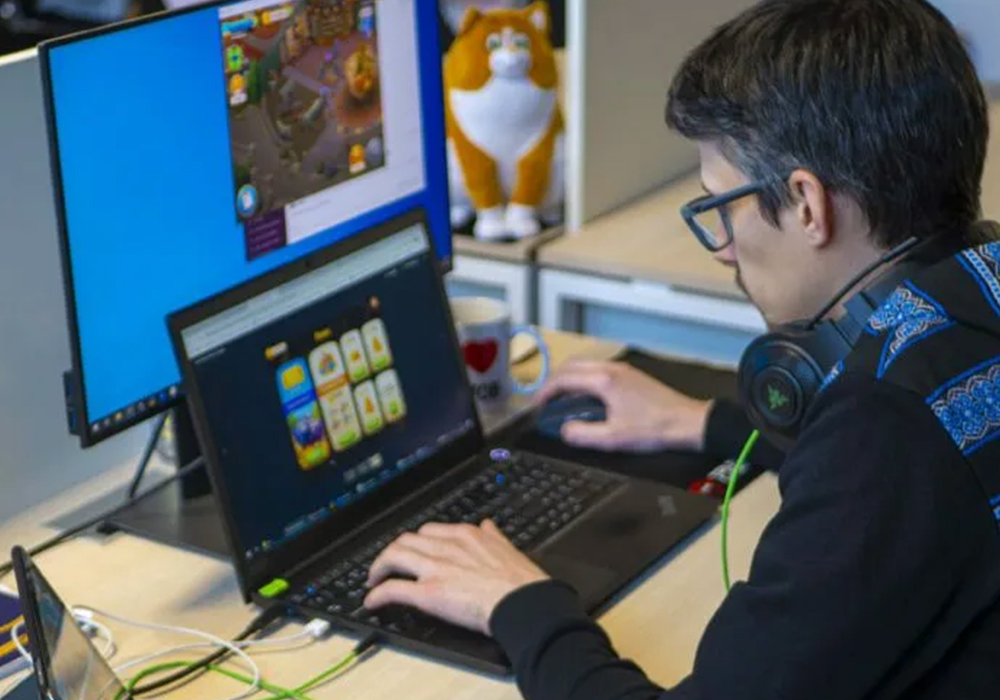 Some of the many benefits of becoming a video game writer are.
A source of unleashing creativity.
Independent working opportunities.
Guaranteed career growth and success.
Assurance of job security.
Multiple career paths.
High demand in the market.
A collaborative field.
Improves technical and soft skills.
Conclusion
The growth and popularity of video game writers is undeniable. Most game creation teams, be it mobile game app development or a video game, hire a game writer to be on their team so that he can guide and facilitate the whole process of game creation.
You May Also Read: Why is a Quality Assurance Tester Needed on a Software Development Team?