The world of technology is mainly focused on connection and transition. There is no doubt that when we talk about the internet, the first thing that comes to our minds is connectivity because this is how the internet and digitalization became a part of our lives through promoting connectivity. But in the current era of technology, connectivity is not limited to human beings only. It has extended its domain by connected devices that help human beings in completing and handle multiple tasks. In this article, we will be exploring the benefits and challenges of connected devices, but first, we will review what the Internet of Things (IoT) is.
What Is The Internet of Things (IoT)?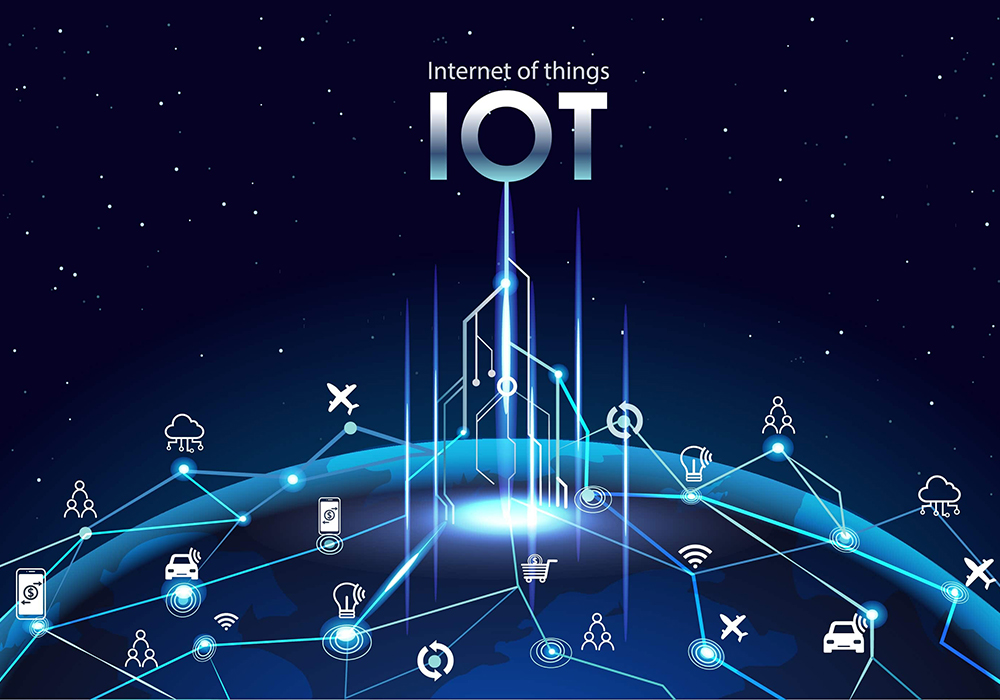 The Internet of Things (IoT) is one of the latest advancements in the technological world. Before the launch of this technology, nobody thought or considered that there could be a way to connect devices or objects in the physical world with an internet connection to perform essential tasks efficiently. Yes, you read it right. IoT enables users to connect their devices, gadgets, and even objects in the external world to be connected to the internet so that they can get notifications and carry out essential tasks swiftly, that too with the convenience of being anywhere, anytime.
It was in 1999 that the term was first introduced by Kevin Ashton. But the official launch of the Internet of Things (IoT) was in 2011 when it was mentioned in a list of emerging tech advancements by Gartner. Since then, this new technology of the connected device market is only proving itself to ease out tasks for human beings in all spheres of life. Be it personal or professional. It has also succeeded in entering the world of multiple industries to make tasks simpler and smoother.
What Are The Types Of The Internet Of Things (IoT)?
The Internet of Things (IoT) is an umbrella term for all the types of IoT that lie under this term. With its advancement in multiple sectors, IoT also got divided into some types that made it easier for people to understand and utilize each type for their own convenience. Some of these types are
Consumer Internet of Things (CIoT).
Commercial Internet of Things.
Industrial Internet of Things (IIoT).
Internet of Military Things (IoMT).
Infrastructure Internet of Things.
How Do Devices Connect To The Wifi Network Work?
It is essential to understand the working of connected devices to get rid of any confusion before moving further in the article. The first question that comes to mind while considering connectivity between the physical world and the digital world is HOW? Well, the answer is simple, it is done through the technological methods of internet networking. Below mentioned are three elements that are necessary for the efficient and effective working of IoT devices.
Sensors
Sensors are a part of physical objects. They are connected to devices or objects in order to sense any movement, change in temperature, or in the environment of the user.
Actuators
Actuators are devices that receive signals from the sensors in order to transform them into a mechanical motion that reacts to the changes in the environment.
Internet Connection
Internet connection is the most vital component for IoT working. Without a connection, it is practically impossible for the devices to communicate and work. Both wired and wireless internet connection helps the users to promote connection and communication between the sensors and actuators of physical objects.
You May Also Read:
How Is The IoT Technology Contributing To The Connected Device Market?
With the invention of IoT technology, the connected device market is thriving and succeeding in almost every industry. Some of the industries that IoT has targeted are
Healthcare industry.
Transportation industry.
Manufacturing industry.
Agriculture industry.
Military industry.
IoT devices and technology enable these industries to obtain individual advantages. For instance, in the healthcare industry, IoT helps doctors to keep a check on patients' condition remotely. In the transportation industry, it helps in the monitoring of the delivery of goods. In the military industry, it helps in keeping a check on changes in the surroundings or the enemy troops. Along with that, IoT advancements also help in the maintenance of security, data collection, and analysis. It helps the swift completion and effective measures of tasks to make human life more manageable.
A vital domain that the Internet of Things is facilitating is the human lifestyle. People are getting more and more interested in utilizing IoT-enabled devices in their household settings to upgrade their lifestyles. With the help of these devices, for instance, wearable gadgets, security systems, or IoT features physical objects, people are now controlling their environment with a tap on the screen. This includes setting the required temperature, having the coffee machine make coffee at your desired time, attending calls, responding to messages, switching the lights on and off,  customizing the security system, and many other vital functions that help human beings in managing multiple tasks at the same time.
The Benefits Of Connected Devices
In this section of the article, we will explore the benefits of devices connected with IoT technology. A study carried out during the time of Covid-19 also supported the benefits of  IoT devices by proving the fact that in times of difficulty and need, this tech advancement served humankind in the best way possible. Some of the benefits are
Efficient Working
With the help of connected devices, there are multiple automated tasks that are being carried out without any errors or mistakes. IoT devices promote efficient working as once the settings are made and commands are conveyed, the user does not have to worry about any delay and errors.
Helpful Decision Making
As mentioned above, IoT devices help in extracting rich data and also facilitate the process of data analysis. This helps industries and businesses to save time on data collection and analysis. Their task is to pay close attention to the details, identify the pitfalls and strengths and make data-driven decisions in no time with practical solutions that are derived with the help of IoT devices.
A Hold On Controlling
IoT devices enable you to control your surroundings in a much more effective way. With the help of these devices, it is practically impossible for individuals to commit any errors until and unless there is a flaw in the initial process of setting instructions.
Maintenance And Monitoring Capabilities
IoT-connected devices also give you the facility to upgrade and maintain your devices through continuous monitoring. These devices detect the need to upgrade a device before an error or problem occurs. This helps individuals in saving money as well as time to fix a device or system rather than spend some time and money upgrading it.
Energy Saving
Up till now, we have talked about saving energy for human beings. But another benefit of IoT devices is that it also helps in saving energy consumption of devices and gadgets. For instance, if you command your device to switch off all the lights once you leave your house or you forget to turn off lights, your IoT device will automatically do so while saving energy consumption. This feature also makes it a cost-saving and budget-friendly option for improving profitability and reducing energy costs.
Customer Services
If we talk about IoT in industries or businesses, we have seen it to be a fantastic tool for excelling in the customer care domain. IoT helps in developing a customer-centered experience for users with the help of the data recorded and analyzed. This particular feature has benefited the retail industry and healthcare industry the most.
Improves Lifestyle
The primary purpose of most tech advancements is to improve the lifestyle of human beings. With the help of these devices connected to our internet, people are now able to manage household activities with smart homes or manage their personal matters with the help of wearable devices. This feature makes lifestyle easier and more convenient for all tech-savvy individuals.
Enhanced Security
Last but not least, the connected device market has been the most significant contributor in enhancing and optimizing the security system for homes as well as industries. With the help of activating these systems in different sectors, people can now keep a check on any sort of illegal activity, any suspicious activity happening in the surrounding environment, get notified about any attempts of an illegal entrance, and many more. This has also helped parents in monitoring their children's activity, keeping a check on a babysitter, as well as observing an aged relative whom they have to leave at home for work.
The Challenges Of Connected Devices
With every technological advancement comes a list of benefits and challenges. Since we have explored the benefits, it is now time for the second part of our title, 'Exploring the benefits and challenges of connected devices.' In the last section, we will highlight some of the challenges that might be faced when utilizing IoT devices.
A Risk To Security And Privacy
We all know that IoT devices require user data to be recorded in the system. As much as this helps individuals and industries with managing essential tasks, it is also a threat to the security and privacy sector because some of these devices or software are vulnerable to cyber threats or easily hacked by scammers. This makes it easier for them to acquire important information leading to security threats, identity theft, mismanagement, and leakage of essential data.
Internet Connection
For a swift and smooth working of devices connected to the internet, it is ' to have a good internet connection as well. If your internet connectivity is unstable, weak, and vulnerable, your devices will not work correctly or react to instructions the way you want. This will further cause mismanagement and disorganization.
Costing And Budgeting
IoT devices are known to reduce the cost as well as the energy consumption of devices. But one thing that might be a challenge for people would be the installation of these devices. As a new and emerging technology, IoT devices are limited as well as a bit costly to afford, but once you pass this phase, the maintenance of these devices is quite affordable.
The Problem Of Interoperability
One of the biggest challenges of the connected device market is interoperability. This means that different devices are manufactured by different companies. It is essential for each device to connect and communicate with the other gadget for smooth functioning.
Training And Learning
Every field, be it technological or theoretical, requires some sort of training and learning for practical implementation. A challenge that is faced by IoT technology is that there aren't a lot of trainers who can provide expertise in the field. This also causes people to take more time in learning and making use of advancement.
Data Storage Capacity
Since IoT devices support massive data generation, it is necessary for industries to have large data storage capacities so that they can overcome the challenge of data overload. This will help in recording, storing, and interpreting data in an organized manner without confusion and mistakes.
Staying Connected To The Trends
The world of tech trends constantly updates and changes with time. The same goes for the connected device market. In order to get a fine grip on how these devices work, it is necessary and crucial to stay connected to the latest trends in IoT devices.
Power Consumption
As much as IoT devices connected to your physical environment help in saving energy and power consumption, they also consume plenty of energy for their work. Though this is a challenge on its own, it can be catered to by minimizing its power consumption to increase and optimize battery life.
You May Also Read These:
What Is IoT App Development And How To Start The Journey?
IoT app development refers to mobile applications developed for the purpose of managing IoT functions and working. In order to start a journey in the IoT app development industry, you must connect yourself with an app development company as a beginner as well as a professional so that you can make the most out of professional expertise.
Conclusion
The domain of the Internet of Things (IoT)is enormous and gigantic, with multiple benefits to make life easier. As far as the challenges are concerned, the industry of the connected device market is constantly making efforts to cater to these issues and come out with precautionary measures that will provide equal opportunities for usage for people. Therefore, it is crucial to stay connected to the field, as there is no doubt that it will progress in the future.
You May Also Read These: